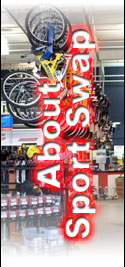 Calgary's Original New and Used
Sporting Goods Specialist for Over 27 Years!
Sport Swap has been an innovating retailer in Canada for over 27 years. Our unique approach to retailing sporting goods has perfected the "Buy, Sell, Trade, Consign" formula making Sport Swap Ltd. the largest independent Dealer of New and Used Sporting Goods in Canada.
Our Story – Everyone has to start somewhere and in 1973 Sport Swap started with 500 sq. feet and a simple idea – to provide an affordable approach to purchasing sporting goods. As demand grew, our consignment outlet also expanded in both size and scope. The past two decades have seen many changes in the sporting goods industry; and by listening to our customer's needs, we have evolved many of our programs to reflect Calgary's current sporting trends. We have grown to three stores accommodating the largest selection of new and used sporting goods in Alberta. It has been our superior focus and response to our community's needs that has enabled us to expand our services, spreading "The Sport Swap Difference" Citywide.
Our Advantage – It's to our advantage to ensure that you are completely satisfied with all of you purchases. After all, we want you to get out there and enjoy your purchase as quickly as possible. Sport Swap believes that just as any serious athlete knows the importance of training to ensure their best performance, a well trained staff can help you make the right decision for your sporting goods needs.
Anyway you want it! Allowing you the most flexibility when making a purchasing decision is Sport Swap's unique approach to retailing.
Our Buy, Sell, Trade, Consign – formula allows you to get the most out of your old equipment and pay the least for your next sports purchase whether it be new or used or a little of both.
Sport Swap Options = The Sport Swap Difference
Buy / Sell depending on the quality and condition of your equipment you may have the option to sell us your equipment for cash. Come in and talk to our Consignment Specialists for more details, they are extremely knowledgeable in all areas of sporting goods and can assist you in making decisions to fit both your physical and economical needs.
Trade in your quality used equipment for something new. Simply bring in your sporting goods and we'll give you a credit towards your purchase that day.
Consigning your equipment at Sport Swap gives you the best return on you investment. Bring in your sporting goods, our experts will help you price it to sell quickly and then we'll call you when your equipment is sold – it's that easy.
Committed to our Community
Sport Swap has always been involved at the community level, and with each new step we strive to maintain our vision while also keeping in touch with our early stages and why we do what we do. Sport Swap is committed to the importance of sport and leisure, and as such we believe that all people regardless of economic position, should be able to partake. Sport Swap Supports: KidSport, Softball Calgary, Calgary Roller Hockey League, A-Channel MVP – Athlete of the Week, Calgary and District Minor Hockey, Calgary Hitmen and Community Events.
Employment Opportunities
Sport Swap is always looking for enthusiastic people to become a part of our Sport Swap community team. Whether you are a student looking for part time employment or an exciting career in the sporting goods industry, Sport Swap offers advanced training and commitment of an experienced management team to get you on your way. If you're interested in discussing your future prospects and want to learn more about our competitive wages, extensive training, and benefit program, please come in and speak to one of our store managers about joining our winning team or fill out an application online in our jobs section.