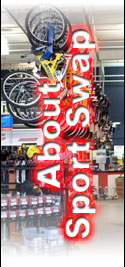 Jobs at Sport Swap
Become a part of the Sport Swap Team…Apply Here and Now!
Sport Swap Employment Application:
Sport Swap is committed to providing our community with superior customer service. Sport Swap believes that just as any serious athlete knows the importance of training to ensure their best performance, a well trained staff is fundamental in helping customers make the right decision for their sporting good needs. Sport Swap is a place where: Customers can meet their needs with numerous possibilities of New and Used Sporting Goods, as well as 'recycle' their old equipment for others to enjoy. Customers can always expect courteous and knowledgeable staff to aid them in filling their needs to their utmost satisfaction.
Sport Swap Employees are:
Active sport enthusiasts
Experienced and knowledgeable in a variety of sports
Consistent, honest and professional
Involved in the development and enrichment of the sporting community
Proactive in developing and maintaining positive interpersonal relationships
Sport Swap is open 7 days a week with hours ranging from 10:00 a.m to 9:00 p.m. Sport Swap offers full time and part time employment.
You can apply online by using our form, or by Fax at (403) 255 5948