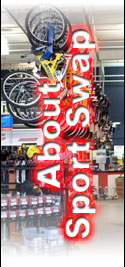 Products at Sport Swap
Whether your shopping for New or Quality Used Sporting Equipment, Sport Swap carries the top brand names in sporting goods all year around. Sport Swap stores offer equipment for all seasons including: ice hockey, skiing, snowboarding, figure skating, lacrosse, biking, baseball, golf and inline skating. For more information on the brands we feature in each department, take a look below. Sport Swap has choosen to link to the following sites.
HOCKEY
Bauer, CCM, Easton,
Heaton, Itech, Jofa,
Kobe, Koho, Louisville,
Nike, Sherwood,
Shock Doctor
Hockey Equipment
Checklist
SKATES
Bauer, CCM, Easton,
Jackson, Nike
BASEBALL
Cooper, Easton,
Louisville, Nike,
Rawlings, Spalding,
Wilson, Worth
INLINES
Bauer, Kryptonics,
Pro-Tec, Rollerblade,
Tecnica
BIKES / CARRIERS
Adams, Bell,
Chariot Carriers,
Giro, Norco,
Raleigh, Schwinn
SKIS / SNOWBOARDS
Bell, Elan Skis,
Elan Snowboards,
Giro, Head, Lamar,
Marker, Nordica,
Pro-Tec, Rip Zone,
Smith, Tecnica, Tyrolia
LACROSSE / SOCCER
Brine, STX
Lacrosse Equipment
Checklist
GOLF
Dunlop, Etonic,
Precision, Pro Select,
Rampion, Spalding,
Top Flite, Wilson
RACQUETS
Black Knight,
Head, Prince
COOL SITES
MLB, NBA, NFL,
NHL, NSMB, Pinkbike
Have questions? Feel free to E-Mail us with your questions or comments.